Breast Mates members and volunteers were not happy to hear that Knowsley had a low rate of uptake for breast screening. It was decided that we would set up an education and publicity project which would aim to increase the uptake in Kirkby.
We approached Wendy Thompson, Breast Screening Manager, based at Broadgreen Hospital. Wendy was really supportive and offered to work with us. Wendy held a training session so we would be well informed regarding breast screening and would be able to answer questions when we went out into the community; seventeen members and volunteers attended. The group came up with a slogan,
"It only takes a minute, girl…"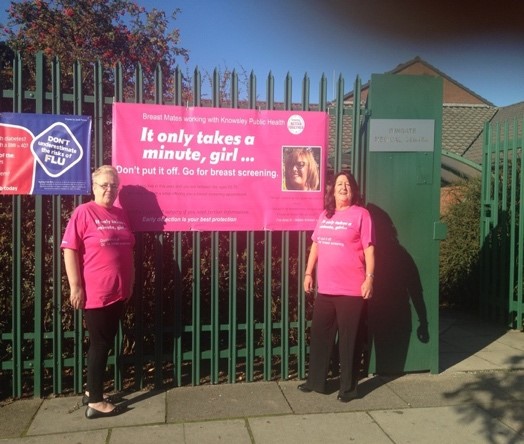 We had banners and posters printed and we were off! Kirkby got plastered with them. We visited shops, hairdressers, beauty salons, the bingo, sports centres and community centres. We made great contacts, met lovely people and our group really enjoyed getting out into the community.
WE MADE A DIFFERENCE!
The results were that the uptake in all the GP practices increased – some by as much as 7%. We are now extending this work and aim to have an ongoing project that will cover the whole of Knowsley.
The breast screening unit was due in Huyton Village in January 2020. Our volunteers worked with Aston Health care practices ringing their patients who were due to be screened. We asked if they could make the date they were given and answered any questions they had; their patients were the first to be called for screening. We then set about putting up banners and posters all around the Huyton area. Early feedback told us that there was an increase in those attending.