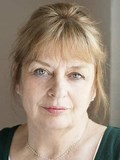 Noreen Kershaw is an English television actress and director. She trained at the Manchester Polytechnic School of Theatre and, at Liverpool's Everyman Theatre, originated the title role of the play Shirley Valentine, later made famous by Pauline Collins. She was seen in the BBC television series Life on Mars, as WPC Phyllis Dobbs, the desk officer.
She had previously played the roles of Kathy Roach in Channel 4's Brookside 1988–1990, Lynne Harrison in Granada Television's Albion Market 1985–1986, and Joyce Wilson in the long running Granada TV sitcom, Watching
Noreen successfully transitioned to the other side of the camera and has become an accomplished director.
Her work includes episodes of the top rated ITV1 soap opera, Coronation Street, as well as Channel 4's comedy drama, Shameless, ITV1 soap opera Emmerdale and Heartbeat and Scotland's River City.
In 2008, she directed the feature film Act of Grace.
The following, in Noreen's own words, explains how she became involved with Breast Mates……………………………..
Breast Mates and Me
There are certain people you meet in your life and they have a profound effect on you.
Breast Mates are such people.
I was directing two Episodes of Jimmy McGovern's 'Broken'. It was the job of a lifetime but little did I know I would end up making lifelong friends.
I was looking for an actor to play a character who was in remission from cancer. With the approval of LA Productions I decided I'd love to find someone who was actually in that position.
I knew Eileen McGovern had contacts with various groups and asked her if she could think of someone who would be willing to have a go and could put up with the challenges of filming. Eileen and another Breast Mates volunteer Shelagh Hill, suggested Heidi Roberts.
Heidi, herself a volunteer at Breast Mates, had been having treatment in Germany and on the day she was asked to be in 'Broken' she'd had the news that her tumour had shrunk. Heidi was up for having a go at this acting lark!
There was a fashion show by the support group in 'Broken'. Could Heidi, Shelagh and Eileen persuade the rest of Breast Mates volunteers to take part in the fashion show?
There was only one blot on the horizon …. they would have to work with SEAN BEAN !!!
Of course they said … YES !!!
Next came choreography and fashion and make up consultations . Each lady had their own consultation and discussed 'their look'.
In between times I'd done two scenes with Heidi and she was a natural.
Come the day we were going to shoot the fashion show, LA Productions pushed the boat out and there were treats galore for our special team of Breast Mates actors.
We tried to get as many friends and family in to be part of the audience when we filmed the fashion show. The atmosphere was electric … The best time I've ever had filming.
Breast Mates were wonderful. The scene was a triumph!
Oh … and Sean did ok!
When it came to the screening of 'Broken', Breast Mates were invited as guests. It was such a pleasure to see them all again. It was then that they sprung their massive surprise on me. Would I be their Patron?
There wasn't a moment's doubt. I would be honoured.
And the rest …as they say …is history! I love seeing and meeting up with my Breast Mates friends.
Just a wee post script . By the time 'Broken' was aired …we'd lost Heidi.
The whole of our experience was a testament to her.
Every time I hear 'Sisters Are Doing It For Themselves' (the song from the 'Broken' fashion show) I think of Heidi and Breast Mates.
They are wonderful women and I'm proud to be their friend.
Love
Noreen 💕